Phone: 877.425.6337
Fax: 877.509.6337
Main Address: 1412 SW 43rd St. Ste 120 Renton, WA 98057
Careers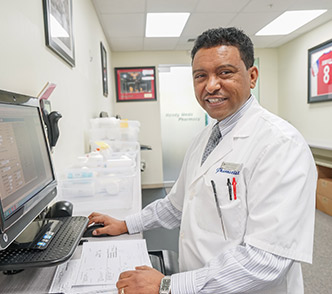 Pharmacist Position
Overview
Ready Meds Pharmacy prides itself in providing exceptional service to meet the needs of adult family homes, long term care facilities, and patients living independently in Washington state. If you have a passion in providing personal, timely service to patients, we invite you to come and join our team. Apply today!
Pharmacist Responsibilities and Duties
Evaluate physician medication orders for appropriateness of drug, dosage, potential interactions, and route of administration. Make recommendations for therapy changes to providers and facility staff as appropriate. Prepare and dispense medications as prescribed in customized patient-friendly packaging. Ensure the accuracy and appropriateness of all prescriptions dispensed by completing drug utilization review and quality assurance interfaced with QS/1 pharmacy system. Verify the accuracy of unit dose medication packaging. Intake and interpret provider orders and provide medication information and recommendations. Counsel and train caregivers on medication use, administration, and regulatory compliance. Complete third-party insurance documentation and assist pharmacist-in-charge with special projects as needed. Must be available for nights and weekends. Open availability preferred.
Requirements
B.S. in Pharmacy or Doctor of Pharmacy (PharmD) from accredited College of Pharmacy, and a current Washington pharmacist license in good standing.
Check for our job postings on Indeed, email your résumé to readymedspharmacy@gmail.com, or mail to:
Ready Meds Pharmacy
Attn: Belete Gulelat
1412 SW 43rd Street
Suite 120
Renton, WA 98057